Frequently Asked Questions
Which memberships do I need?
Team2Book is a software addon to Teamup Calendar.  
In order to use Team2Book, you need 2 separate memberships.
A Teamup membership,

A Team2Book membership.
You can find more information about the Teamup Calendar here: https://teamup.com/
Teamup's membership is sold based on the number of sub-calendars you need.  
You will need to add 1 sub-calendar for each :
Consumer (i.e. number of people in your team) for which you need to provide a resource.  

1 sub-calendar for each consumer + 

1 sub-calendar for each consumer that wants to sync with his personal agenda/calendar.

Resource (i.e. offices, lab equipment, etc) that you want to assign to consumers.

A few extra sub-calendars (typically less than 5) will be required for special needs. 
Note: Please note that the Free and Plus Teamup calendar membership will not be enough if you need to use special events.
The Team2Book's membership you need depends only on:
The number of resources (i.e. offices, lab equipment, etc) that you want to assign to consumers.
Our subscription calculator, which will help you decide on the best membership plan that suits your needs. Our calculator takes into account various factors such as the resources and consumers you have, a working sub-calendar, and any special events you may have. By entering this information into our subscription calculator, it will recommend the most suitable membership plan for you.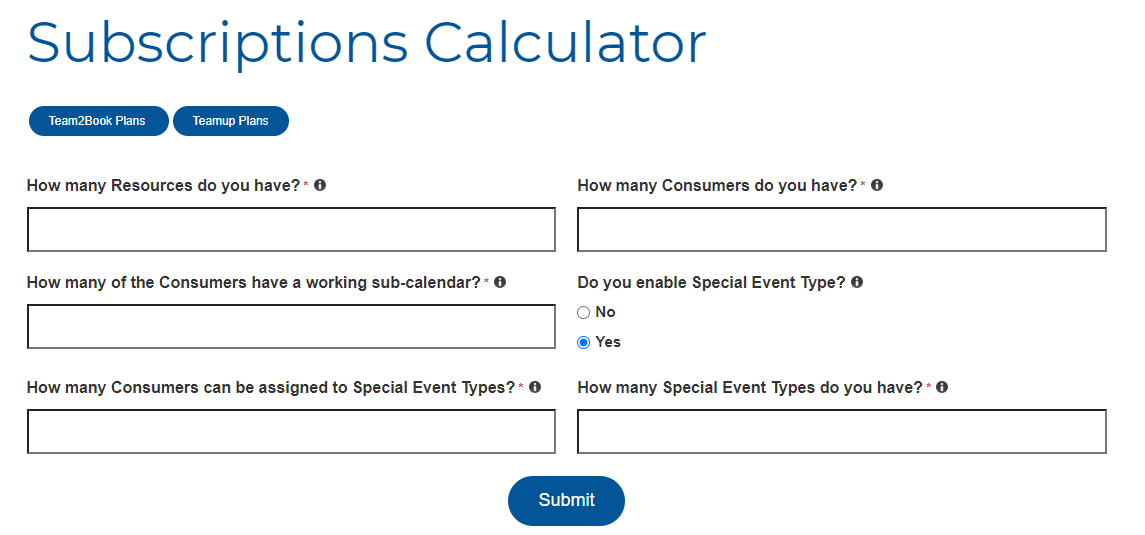 Generally, there are five types of memberships: Free, Plus, Pro, Business, and Enterprise. 
1. Free Membership: 
This is the basic plan that is usually offered for free. It provides limited access to Team2Book resources and features, such as a limited Number of Resources, doesn't Supports Special Event and   Support Ticket, and limited Number of Custom Fields.
You can manage a maximum of 3 resources.  This plan is ideal for very small team or to try out Team2Book for free.
2. Plus Membership: 
This plan offers more advanced features than the free plan, such as Includes Support Ticket, more number of Resources.
You can manage a maximum of 6 resources.
3. Pro Membership: 
The Pro plan is designed for small and medium teams
You can manage a maximum of 15 resources.
4. Business Membership: 
This plan is designed for medium size team.
You can manage a maximum of 30 resources.
5. Enterprise Membership: 
The Enterprise plan is designed for larger organizations 
You can manage a maximum of 50 resources.  Please contact-us for more.
To know more about the Team2Book plans, please visit our pricing page.
Why do I need a separate Team2Book and Teamup membership?
Because,  we didn't actually reinvent the wheel when it comes to scheduling. Instead, we rely on the power of Teamup Calendar, a collaborative calendar software and mobile app that is used by more than one million of people worldwide. Team2Book and Teamup are not affiliated, but both software work seamlessly together to enhance your scheduling and booking experience. To use Team2Book, you must first have a Teamup account. If you don't have one yet, you can sign up at teamup.com.
Once you have a Teamup account, you can then add the Team2Book add-on to your account. Please note that you need a separate membership for both Team2Book and Teamup to use the features of the former. However, we believe that the investment is worth it as it will help streamline your scheduling and booking processes. With Teamup, all you need to do is enter your availability and let our innovative scheduler build your organization's schedule. By leveraging the power of this proven tool, we can move faster and reduce our cost and provide you with an innovative scheduling tool.  We're proud to use Teamup Calendar as part of our workflow, and we think you'll love it too.
What type of support do you offer?
If you have a Team2Book free plan, you can submit pre-sales questions.
If you have a Team2Book plan you can submit a ticket and request that we call you back.
For a limited time (Ends on December 2023), we offer Zoom Meeting Support to help you get started.
In addition, you can check out our documentation.  We provide text and video tutorials and will help you get started. 
What are the 4 types of Team2Book's users?
The four types of users in Team2Book are: Principal Manager, Client Manager, Consumer, and Viewer (Guest user). 
Principal Manager: 
This user is responsible for managing the overall operations of the Team2Book product. A Principal Client Manager account is created while setting up your Team2Book account. The primary difference between a Principal Client Manager and a Client Manager in Team2Book is the level of privilege. A Principal Client Manager can add and remove other client managers and can manage the plan.
Client Manager: 
A Client Manager in Team2Book is responsible for managing the resources and consumers (preferences, consumers and resources, etc.) of a company or organization. They are responsible for overseeing the allocation of resources, such as office, lab equipment or anything needed for successful management and completion of a task.   The client manager receives all the notifications related to resource allocation problems and has write access to all the consumers' sub-calendar.  Finally, the client manager has access to the Team2Book's client dashboard in order to change the organization's configuration.
Consumer: 
Consumer is a user that needs to use or consumes a resource. This user is a consumer who has been assigned a resource by their Client Manager.   The consumer will use Teamup to enter availability or non-availability and to see the resource allocations.
Viewer (Guest user): 
This user is a guest who has limited access to the platform's features and functionalities. They can view and will have read access to the resources sub-calendars but don't need to consume any resources.
What is a consumer?
A consumer is any individual who uses or utilizes a resource, and any one who wants to be assigned a specific available resource.  They can be staff members, individuals or employees of an organization. E.g. Employees like health-care professionals in a clinic that needs to use offices, which is a resource.

For more info click here
What is a resource?
Resource is used to refer to any kind of space or material that needs to be scheduled and allocated to its consumers. Resources can be an office, a premise, a lab equipment or anything that needs to be shared efficiently for your operations.  The resources are listed here: Client Dashboard -> Resources.

For more info click here.
What is a constraint?
Constraint is the minimum number of available consumers required per or on a given time duration.  The client manager will get notified every time a constraint is not met.  The constraint violations are also displayed in the Scheduler Section of the Client Dashboard.


For more info click here
What is a priority?
The priority is the level of importance assigned to a consumer by the client manager, which determines their access to reserved resources. Consumers with a priority of 1 have the highest priority and are given first access to resources, while consumers with priorities between 2 and 10 have no reserved resources but may have resource preferences. The scheduler schedules available resources based on consumer priority and preferences.
For more info click here